Magnet drive submersible centrifugal pump SLM NVT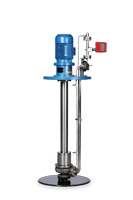 Design features
Vertically mounted centrifugal pump
Hydraulics according to DIN EN 22 858
Dry support tube
Magnet drive
Leakproof
Modular system
Greased ball bearing
Submersion depth up to 8 meters
Technical data
Q up to 1,000 m3/h with 50Hz / up to 1,200 m3/h with 60Hz
H up to 150 m with 50Hz / up to 215 m with 60Hz
t from -40 °C up to +150 °C
p up to PN 16
Special constructions up to PN100
Higher outputs available.
Materials
Standard construction
Pump casing: 316 SS or nodular iron
Impeller 316 SS
Isolation shell: 316 Ti/Hastelloy C4
Magnet carrier: 316 Ti
Internal bearings: silicon carbide
Bearing lantern: 316 Ti
Bearing carrier: ductile iron
Pressure tube: 316 Ti
Support tube: 316 Ti
Tank flange: 316 Ti or according to customer's specifications
Other materials available
Identification code:


Suffixes (designs):
| | |
| --- | --- |
| H1 | heated pump casing |
| H2 | jacketed bearing lantern |
| F | internal filter |
| E1 | external feeding, internal secondary-flow boring enclosed |
| E2 | external flushing and venting; internal secondary-flow boring non-enclosed |
| E1F | external secondary flow with main flow filter per DGRL |
Design variants
Heated pump H1 and/or H2
The pumps are outfitted with a heat jacket and pump casing (H1) and/or a heat jacket in the bearing lantern (H2). Both heat jackets can be realized either separately or in conjunction with a bypass line. The heat jackets in the standard construction are rated for operating pressure of 16 bar at 200 ?°C (steam) or 6 bar at 350 ?°C. The heat jackets can also be used for cooling.
Internal filter F
When solids-containing liquids are being transported, the internal filter prevents inadmissibly large particles from entering the flow channels, and from there the magnetic coupling and internal bearings.
External feed and flushing connections E1 and E2
These external connections allow for external flushing, feeding and/or venting. Connection E1 is used in situations where a continuous feed into the magnet drive is desired. Connection E2 is used suitable for short-term flushing, or for external venting of the magnetic coupling.
Double isolation shell D
The double isolation shell should be used in situations requiring a high level of safety. The unit consists of two interlocking isolation shells, both of which are rated for the relevant operating conditions. If one of the two units is damaged, the casing still remains leaktight. The gap between the two units can be monitored.